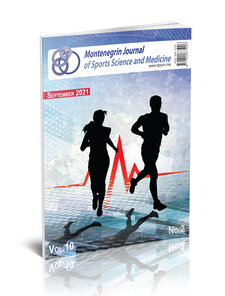 Dear Readers,
It gives us great pleasure to introduce the second issue of this year's volume of Montenegrin Journal of Sports Science and Medicine (MJSSM). We will standardly introduce to you the main achievements since last issue in March and add some additional personal insight into the reasons why MJSSM is such a great journal and you should work with us.
Since the CARS-CoV-2 virus is still with us and continue to attack our daily routine, the science has to be the best answer to disrupting many regular aspects of our life, including sport and physical activity. As scientific activities were not compromised in pandemic time, as most scientists were forced to spend most of their time at home, in front of their computers, this fact reflect the growth of the MJSSM that has continued enhancing its own quality from day to day. Our office has been receiving a large number of quality manuscripts and the journal officers as well as editors and reviewers have much more work to do. The most prestigious databases also recognized the mentioned fact (Web of Science and Scopus). One of these databases (Scopus) continue recognizing the development of our journal that is proved by reaching high impact scores for the fourth year (CiteScore 2020: 3.0, SJR 2020: 0.302; SNIP 2020: 0.633), while the ongoing tracker is promising better CiteScore calculation in 2022 (CiteScoreTracker 2021: 1.9; updated on 04 June, 2021) which is scheduled for Spring 2022. On the other hand, we are still preparing our journal to be evaluated again by Web of Science to reach a long-lasting and eager impact factor and inclusion in SCIE (Science Citation Index Expended) and SSCI (Social Science Citation Index) databases. Therefore, we believe that 2022 will be the year of our highest reach, mostly because we have worked hard and that we deserve further progress and visibility at the international level as current Web of Science Citation Report is promising us this kind of success (Total Publications: 115; h-index: 9; Average citations per item: 3.13; Sum of Times Cited: 360; Without self-citations: 341; Citing articles: 251; Without self-citations: 237; updated on 03 July, 2021). Nevertheless, we must keep in mind that this success has not only been achieved by the management of the journal, our editors, reviewers and authors, as well as readers, have contributed equally. So, we want to thank all the participants in the rapid development of our journal again and again, and to invite all those who have not participated before, to join us in the future, to continue in the same rhythm to the same direction.
We have to remind our editors, reviewers and authors, as well as readers that our journal will continue working on growing academic publication in the fields of sports science and medicine; all clinical aspects of exercise, health, and sport; exercise physiology and biophysical investigation of sports performance; sport biomechanics; sports nutrition; rehabilitation, physiotherapy; sports psychology; sport pedagogy, sport history, sport philosophy, sport sociology, sport management; and all aspects of scientific support of the sports coaches from the natural, social and humanistic side, in various formats: original papers, review papers, editorials, short reports, peer review - fair review, as well as invited papers and award papers, as well as promote all other academic activities of Montenegrin Sports Academy and Faculty for Sport and Physical Education at University of Montenegro, such as publishing of academic books, conference proceedings, brochures etc.
Lastly, we would thank our authors one more time, who have chosen precisely our Journal to publish their manuscripts, and we would like to invite them to continue our cooperation to our mutual satisfaction. Thank you all of you for reading us and we hope you will find this issue of MJSSM informative enough.
Editors-in-Chief
Prof. Dusko Bjelica, PhD
Assoc. Prof Stevo Popovic, PhD
Current Issue