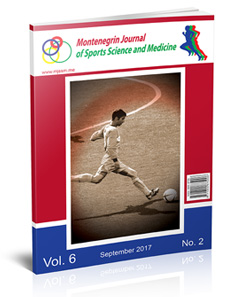 Dear Readers,
Even though our Journal in 2015 and 2016 achieved the greatest success, and entered two strongest index databases (Web of Science and Scopus), we believe that the turning point, that is, the point from which our Journal would continue to grow faster and to develop more, was entering the year 2017 when we reformed the editorial board of the Journal, and introduced a significant number of young people who are, we are sure, the new driving force, who will lead our Journal to the goal that we set in the forthcoming five-year mandate period, to make it a solid leader in the region and recognized by all relevant authors in the field of sports science and medicine around the world.
We have to admit that the work in the last period tripled to say the least, and it was not easy to organize a new team with a significant number of young people to be immediately effective as it was the previous one, so in the first quarter of 2017 we were little late with the review process and we hereby publicly apologize to all authors who have had to wait a little longer than usual. However, very quickly everything clicked into its place, and a new, rejuvenated team works exactly as intended. Therefore we would like to thank the executive editor Selcuk Akpinar, PhD; the assistant editors: Mehmet Uygur, PhD; Catalina Casaru, PhD; Predrag Bozic, PhD and all members of the editorial board and reviewers who on voluntary basis contributed to publishing 10 scientific papers in each of the individual issues in 2017 (March and September).
Also, great gratitude goes to the Montenegrin Sports Academy, Faculty for Sport and Physical Education, and the University of Montenegro, that is, to the Rector, professor Radmila Vojvodic, who from the beginning of her first mandate, selflessly helped our Journal and she is one of the main "culprits" that this Journal progressed so much in a very short period of time. Also, from time to time, Montenegrin relevant ministries provide their support so we would like to thank the Ministry of Science and Ministry of Education, which if were not able to help financially, always wholeheartedly provided moral support, for which we are especially grateful.
Finally, we would like to thank our authors, who have chosen precisely our Journal to publish their scientific papers, and we would like to invite them to continue our cooperation to our mutual satisfaction, since we intend to develop our journal as "open access" Journal, free of any claims against the authors, because we believe that to be the best way we can achieve our basic idea for which we have established this Journal, and that is to promote science and scientific achievements and its availability to all interested users without any restrictions.
Thank you for reading us and we hope you will find this issue of MJSSM informative enough.
Editors-in-Chief
Prof. Duško Bjelica, PhD
Assist. Prof. Stevo Popovic, PhD
Current Issue