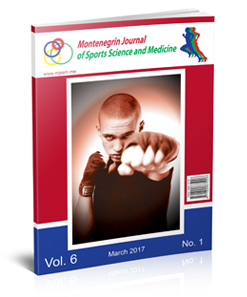 Dear Readers,
On behalf of the publishing institutions: Montenegrin Sports Academy and Faculty for Sport and Physical Education at University of Montenegro, it is our greatest pleasure to announce an exciting professional move of our journal. The Montenegrin Journal of Sports Science and Medicine (MJSSM) faces the tremendous challenges in last five years. From the first issue, we have been working hard and did many improvements that led us to the great successes such as [1] inclusion in Web of Science Core Collection (since 2015), [2] inclusion in Scopus (since 2016) and highest impact ever by Index Copernicus (ICV 2015: 87.90). Since January 2017, our journal has a new Editorial Team that is selected from recognized experts from the field of Sport Science and will be working within MJSSM next five years to improve its status worldwide as well as solve upcoming challenges and issues in this area. The Montenegrin Sports Academy's Steering Committee have selected them from an interdisciplinary perspective, including social sciences, humanities, natural sciences and medicine. As young Editorial Board members are the future key-players in the Montenegrin Journal of Sports Science and Medicine, the Montenegrin Sports Academy will specifically attract and very warmly welcome highly motivated researchers with strong background from all over the world to become reviewers and board members.
We would also highlight that the Montenegrin Sports Academy will continue working on growing academic publication in the fields of sports science and medicine; all clinical aspects of exercise, health, and sport; exercise physiology and biophysical investigation of sports performance; sport biomechanics; sports nutrition; rehabilitation, physiotherapy; sports psychology; sport pedagogy, sport history, sport philosophy, sport sociology, sport management; and all aspects of scientific support of the sports coaches from the natural, social and humanistic side, in various formats: original papers, review papers, editorials, short reports, peer review - fair review, as well as invited papers and award papers in two academic journals (MJSSM and Sport Mont), as well as academic books, conference proceedings, brochures etc.
Since this journal has been indexed in Thomson Reuters Core Collection and Scopus in the past period, the volume of submissions has increased dramatically. Consequently, we would like to announce our journal will publish 10 papers per issue in the future, so we would invite potential authors worldwide to take this opportunity and submit their work in order to broaden our knowledge in the area of sport science and medicine.
Thank you for reading us and we hope you will find this issue of MJSSM informative enough.
Editors-in-Chief
Prof. Duško Bjelica, PhD
Assist. Prof. Stevo Popovic, PhD
Current Issue